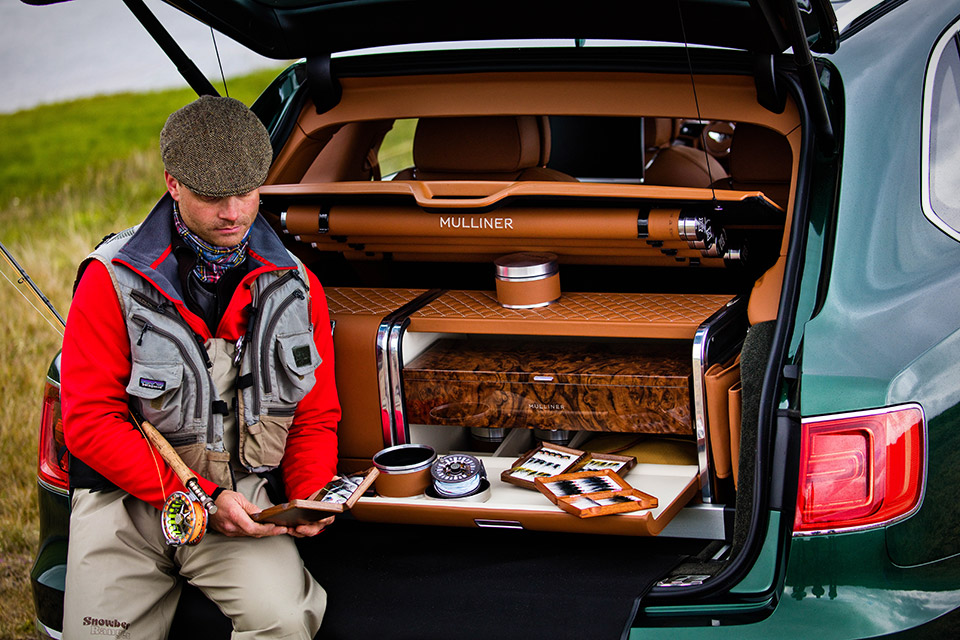 CHOICES, CHOICES, CHOICES
.. So then, this announcement comes at a time when we are seeing motorhomes that cost in excess of $1,000,000.00 at least every other day, (
LINK 1
.)
EXPERIENCE WILD YELLOWSTONE
.. There are several of these that enter
Yellowstone National Park
every day.
.. Just down the road, (only 3 blocks away,) is an R.V. Park with at least a dozen in the $500,000.00 range. If you can abide a used one here's a fair assortment to check out, (
LINK 2
.)
---
.. However, true class for fishing the
Firehole River
demands the new Bentley. The base price for the Bentayga is a mere $232,000.00. This bargain price is only for the vehicle before being outfitted for fly fishing by Mulliner, (Bentley's in house custom shop.)
SIP AND DIP
.. The announcement of the Fly Fishing Edition is just a few hours old so no pricing was revealed, (rumor = an extra $110,000.00.) If you hurry and place your order now you might get yours in time for some steelhead on the
Skeena River
or some salmon fishing on the
River Spey
.
VERY TIDY
.. Mechanical specifications for the top drawer S.U.V. go something like this:
> 6.0-liter, twin-turbocharged W12.
> 600 horsepower and 664 pound-feet of torque.
> 0 to to 60 mph in 4.0 seconds,
> top speed of 187 mph,
> eight off-road settings for different types of terrain.
BY APPOINTMENT TO . . .
.. That's mundane compared to the Fly Fishing accoutrements:
>> Four fishing rods are stored in special leather-trimmed tubes that fit under the parcel shelf
,
>> A pair of landing nets in matching leather bags stow in a carpet-trimmed space carved out of the side of the cargo area,
ONLY THE BURL WILL DO
>> The interior includes three individual seats and a "master tackle station" for stowing fishing gear,
>> A separate trunk for beverages, (#1,)
>> A wooden trunk for waders and boots, (#2,)
>> Trunk #3 the beverage unit includes three metal flasks, fine-china tableware, and a separate storage compartment for food.
SOMETHING FOR TENCH ?
.. The tackle box and refreshment case both slide out for easy accessibility, and if an owner is short on seating, the entire housing can serve as a small bench.
.. There are even machined billet reel cases to keep your leather pouches from getting scuffed up.
.. The waterproof storage compartment is removable, too, in case you need cargo space instead of pole storage. The best thing about this kit is that the rear of the vehicle stays dry and fresh – the floor is waterproof and there's an electronic dehumidifier to keep things from smelling funky. Wouldn't want that!
TWO DIAMONDS 'TIL TWO O'CLOCK
.. Should you have some spare change you can also add a real clock. The "Mulliner Tourbillon by Breitling is the embodiment of luxury, performance and accuracy" (
LINK 3
.)
.. It will only set you back between $65,000.00 and $95,000.00 depending on how many diamonds you need and which face you prefer.
---
.. This offering is almost as good as an Orvis Jeep.
GRILLED PORK AND STRAWBERRY SALSA
WADERS THAT STAY DRY ON THE OUTSIDE