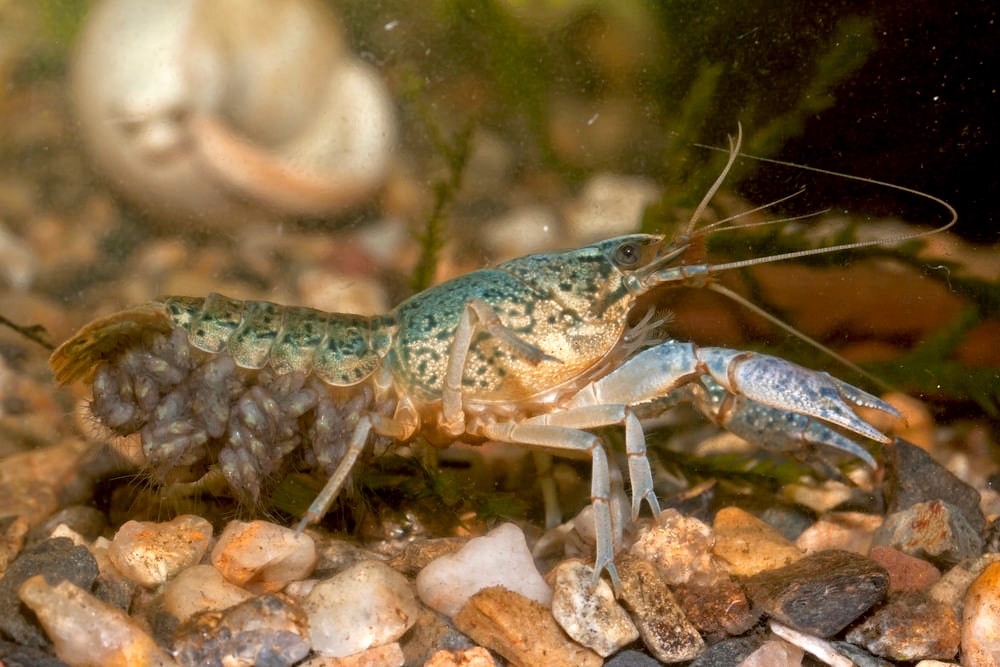 MOTHER AND DAUGHTERS
.. Parthenogenetic crayfish have hit
e
b
a
y
.
..You can bet that they will soon be in a stream near you.
LOCAL PICKUP ONLY
.. In a nutshell: these arthropods reproduce asexually, they are very successful, widely adapted, loved by aquarists, and found in wild populations around the world.
.. They are currently banned only in Missouri and Tennessee.
.. No wild populations have yet to be
found
reported in the United States.
.. Wanna' bet on the possibility? Wanna' guess where they are first to be
discovered
reported?
.. Fish eat crayfish. Large and small mouth bass love them. Big trout of all stripes devour them. These critters are named in the popular vernacular as
"Marbled Crayfish."
.. Currently there is a scientific debate about their scientific name and classification.
.. Are they "Marmorkrebs," or "
Procambarus fallax
[forma]
virginalis," or
"slough crayfish?"
.. They were apparently discovered in the
EVERGLADES
in 1995 and taken to a pet fair.
.. They quickly made their way into the aquarist world and were given the name marmorkrebs, (which means marbled,) in Germany. Popular myth has them being discovered in Germany.
.. These crayfish are apparently a 'natural' mutation, (who knows given the sewer that the Everglades is?) The academic question now arises: are they invasive or, just exotic or, just successful?
.. It's taken 20 years for folks in this part of the planet to become concerned. Now then, what to do?
.. Scientists, medical researchers, and taxonomists are having a field day with the critters and their asexual nature. Fisher folks have seemed rather blasé about it all.
RESOURCES
>>
NATIONAL GEOGRAPHIC
>>
Nature Ecology & Evolution
>>
Science Friday
>>
The Guardian
>>
BBC World News
>>
Nature (PDF)
>>
Wikipedia
>>
..
-----
.. Another 'warm' day is on tap and the neighbors have already beat down the door for coffee and grits. They are off to visit the clouds of midges
Between The Lakes
.
SMALL LIGHT SPRUCE MATUKA
.. Morning is strictly a nymph and small streamer game.
.. In the bright sun of the early afternoon the snow flies seek perches in anything above the well trodden snow.
..Fisher Folks' ears are good landing places.
.. We'll see them later on.
-------
WALLPAPER:

RIB STEAK AND EGGS