..
.. Back then it was the
"AFL-NFL World Championship Game."
It was not too big a deal and it didn't even fill the Los Angeles Memorial Coliseum.
THE CELEBRATED RAMETTES
.. Tickets cost an outrageous $12.00. The game was broadcast simultaneously by both CBS and NBC.
.. The Los Angeles Ramettes, (baton twirlers in baggy bottoms,) were the featured entertainment along with Al Hirt and a couple of college bands.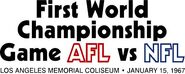 'TWAS THE FIRST
.. Oh, the two teams that made their presence felt were the Green Bay Packers and the Kansas City Chiefs.
.. Vince Lombardy and Bart Starr prevailed by the score of 35 - 10.
TAKE FIVE
.. Halftime entertainment included a brief smoke by K.C. quarterback Len Dawson, (later won the game in 1970.)
.. During the pregame, the University of Arizona band created a physical outline of the continental United States at the center of the field, with the famed Anaheim High School drill team placing banners of each NFL and AFL team at each team's geographical location.
AND
- 10,000 balloons were released.
.. This year, on this day, it promises to be far less entertaining as a football game but the spectacle should be a bit more grand.
10,000 BALLOONS
.. Levi's Stadium in Santa Clara is smaller than the Los Angeles Memorial Coliseum and has been expanded for the game to hold 75,000 souls.
.. Tickets cost between $3,000 and infinity depending on the luxury boxes and other amenities. Parking for the masses costs just $150. The pretty people will have their Uber-copter deposit them in the VIP area.
.. According to Stub-Hub the average price for tickets is holding steady at around $5,000 and is nearly sold out. All this to see the Broncos and Panthers play a game that features teams that were non existent in the early days. A good cultural indicator.
.. Oops, the sun is peaking through the trees, breakfast is ready, and the fish are waiting. We'll be back for pre-game snacks.
WALLPAPER:

TODAY'S BREAKFAST