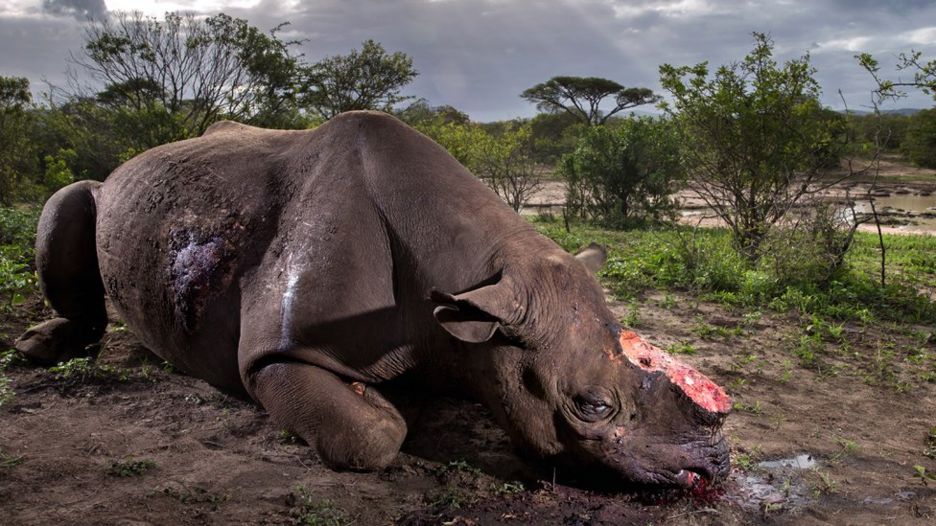 WALLPAPER: by
BRENT STIRTON
.. The judging is finished for the Wildlife Photographer of the Year, (WPY.)
.. Brent Stirton visited 30 crime scenes in the Hluhluwe Imfolozi Game Reserve of South Africa.
.. He documented each one. The animals are usually killed with a silenced rifle at night by local poachers. The horns, (just like your toenails,) are sold to middlemen and then smuggled out of South Africa to either China or South Vietnam.
.. Street prices for the horn are higher than the price of gold or cocaine.
RESOURCES
>>
BBC REPORTS
>>
NATURAL HISTORY MUSEUM
-----
..
Another in a series of tourist days in
Yellowstone National Park
.
.. Visiting fishers are taking advantage of the warmth, (50
°F
,) to crowd into parking places and famous runs of both the Firehole River and the Madison River.
GREEN LEGGED BUGGER
.. There is a giant swarm of fishers in the reaches of the Gibbon River just below the falls. It seems that the runners have done a quick scoot into the spawning beds of this neglected stream. Look out fish.
.. Fishers are cautioned about parking on the road or partially off of it. Both traffic tickets and tour bus disasters are waiting for the careless anglers.
.. Yes indeed, many a submarine is to be found in clear view along the Gibbon River. Some fish are already on the redds and some others are darting along searching for receptive females, (hens to the effete of the visitors.)
.. It's late and we've lingered over the black swill too long. Breakfast is ready and needs more attention than we can give it. The neighbors will soon be here and willing to challenge the birds for the early worm fly.
WALLPAPER:
BREAKFAST BURRITO PREPPED AND SERVED