WALLPAPER:

IDIOT PARENT
.. There is no official
Yellowstone National Park
press release at the moment.
..
BUT
, Local news media outlets are reporting that a man has died after falling into a hot spring.
.. Witnesses report seeing a man fall into
Porkchop Geyser
in
Norris Geyser Basin
around 2:30 PM today, (Tuesday June 7, 2016.)
WALLPAPER:

SURPRISINGLY HOT
.. Park rangers are treating the incident as a fatality as they continue their search for the man. Park headquarters in Mammoth has confirmed that no additional news will be forthcoming today.
READ HERE:
BILLINGS GAZETTE, BOZEMAN DAILY CHRONICLE, YELLOWSTONE PARK NEWS RELEASE.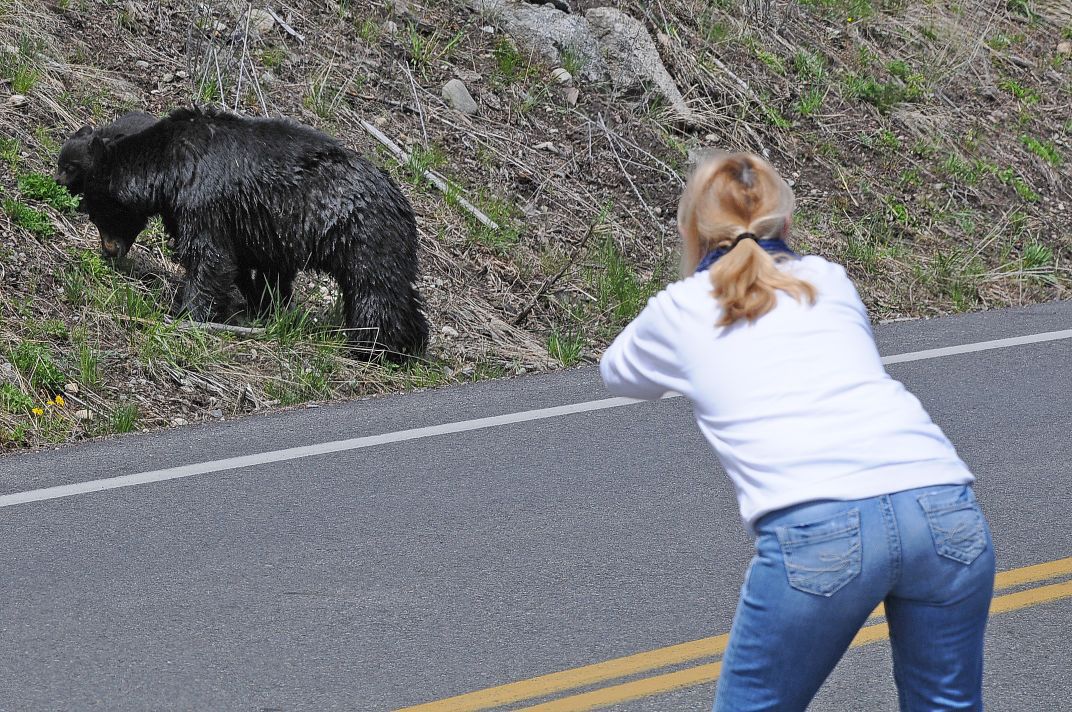 Courtesy Photo:
Casper Star Tribune
.. This has been a year for folks that just don't get it:
• A group of men who post pictures and videos of their travels on social media walked onto a sensitive hot spring, snapping selfies and dipping a hand into water that can reach the boiling point.
• Another Yellowstone visitor violated park rules by loading a bison calf into his vehicle out of concern it needed help, and the bison was euthanized.
• Another tourist approached within an arm's length of an adult bison in the Old Faithful area, which was captured on a video that went viral. The bison, which was lying down, reared up but did not charge.
• Another video featured visitors posing for pictures with bison at an unsafe and illegal distance.
• And another video that went viral this spring showed a cow elk charging a woman who was approaching it.
.. Well folks the
Firehole River
hit 79
° F yesterday.
.. It only spiked to 77
° F today. The clouds that were promised by the weather people have materialized too late to ameliorate the rising temperatures in the little creek.
PARACHUTE CADDIS
.. The meager drips and drizzles from the sky have been full of dry lightning and sounds to encourage fishers - but no cooling rains.
.. Discharge is still around 250 cfs below seasonal norms and is still flirting with record lows.
.. The bugs are hatching at a prolific rate but it seems that the fish are too listless to expend the energy necessary to gather them off of the top of the water.
.. Nymphs and soft hackles are still the go to flies on this most famous of dry fly waters. Some of the neighbors have had surprisingly good luck on top with the "Stiffy" Dry Stiff Hackle.
STIFFY
.. Late afternoon and evening catching on the little creek has been right next to obscene with several types of caddis erupting in the bright sun from the warm water.
.. It's a "pick your poison" kind of fishing. Grab your favorite caddis imitation and fling away. If this keeps up we may need to designate the creek as a "kids fishery." Yes indeed, it is that easy.
TRY THIS
.. The Firehole Canyon is still full of the big bugs and out into National Park Meadows they are being gobbled by the trout. There is also a pretty good evening caddis hatch in the meadows as well.
.. Should you venture into the Gibbon River side of the meadows you will bump into little yellow stoneflies. If you are in luck you will have to pick them out of your ears.
.. Up in the little meadows of the Gibbon River the Brook Trout have come alive.
.. This is an anything goes sort of fishing experience. The water is thin and cold and the fish will feel you coming before you get your one cast.
.. The canyon water above the falls is still attracting the folks that know. This is the place to exercise your favorite attractor flies.
.. On top, in the film, drowned a little, drowned a lot - it's all going on right now. Anything from Stimulators to Royal Coachmen are just fine. Stick with moderate to small sizes and you should do very well.
The Little Meadow Near Norris Campground - One Cast Fishing
.. It's time for some more thunder: maybe some rain and coolness will accompany it.
WALLPAPER:

RHUBARB PIE - STRAIGHT UP!